Back To Our Services
If you were experiencing problems with your HVAC system at any point during your adult life than you are probably already familiar with fundamental believes and regulations in the field. You probably know the official position of the United State's Environmental Protection Agency as well as the air duct cleaning pointers. You know that the official standing of EPA is if it is not broken do not fix it and if you don't chough don't bother to clean it. We've simplified it here a bit of course but it looks like that in general. But what about situation when it is broken? What about those times when you can see that something is wrong, that your home has terrible odor, that your utility bills are higher than usual, when you start to suffer from various allergies and various asthma attacks or other episodes, what to do then?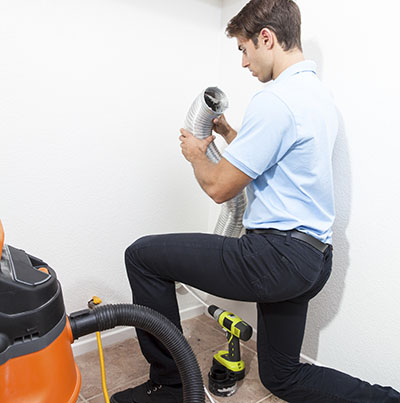 Air duct sanitizing performed by professional cleaners
Then you should call us - Air Duct Repair Foster City to take care of the problem for you. It might happen at first when problem occurs that you won't be able to recognize why it occurred and what the problem is. For that reason the very first second you start to notice changes in your indoor air quality don't hesitate to call us. As sooner as you contact us, the sooner we will get your problem fixed and with us at Air Duct Repair Foster City working on it that will be the end of all your troubles.
Another, very common occurrence and indicator that your air duct needs servicing and repair, is the quality and ability to regulate the temperature within your residence. If you feel that you are not able to regulate the temperature as effectively as you could a year or few months ago then this also should be a warning sign that you should take into consideration and not disregard at all. Very often these all should be taken in consideration as complex of indicators and handled individually.
We always advise to conduct air duct cleaning and servicing each three to five years in order to prevent any potential malfunctioning of HVAC system. We all agree that prevention is the best solution but sometimes prevention is not enough and you are forced top seek help from the professional air duct repair company. And when it comes to this we assure you we are the best choice for the job. You will not remain disappointed, you will get your money's worth and much much more. The best outcome of all will be repaired air duct system that will come with the guarantee and will work with you for many years to come. When we fix things we make them good as new and you make sure you will enjoy the benefits of our work for long time. It may seem like bragging but it really is not. Air Duct Servicing may sound very complicated for many but for us is the simplest thing there is. We found HVAC system very challenging structure that we are always eager to approach. We see your issues like personal challenges and we are definitely not the team of quitters. After we finish with your home we are all winners. We don't give away medals or take one for that matter but we all feel proud and satisfied!
Back To Our Services